WESTERN CAPE NEWS - In a media statement today, premier Alan Winde said that the Western Cape has seen an overall decline in the number of hospitalisations.
According to the statement:
The Western Cape has seen an overall decline in the number of hospitalisations in recent weeks and our hospitals are currently running at 69% of capacity. Our field hospitals have played an important role in ensuring that we have been able to provide appropriate care for people in the province at the peak of infections. This also means that we are now able to start re-introducing other key services in our healthcare system which were either put on hold or slowed down because of Covid-19.
Our hotspot interventions continue in all of our hotspot areas to promote behaviour change. Long term behaviour change is key to ensuring that we continue to see a decline in the numbers of new infections and hospitalisations and save lives.
We do not want to see a second wave of infections, and so it is vitally important that we all continue to take precautions. These include staying at home as much as possible, especially if you fall into one of the high risk groups, regular handwashing, and hygiene practices such as not touching your face, and coughing into an arm or an elbow. Wearing your mask and social distancing when outside of your home can help to protect you and your loved ones from becoming ill. If you do feel sick, or are experiencing any symptoms, it is important that you stay home, and seek medical attention if you experience trouble breathing.
Yesterday, the Western Cape cabinet announced that it has taken a position on allowing businesses to open safely, and for domestic alcohol sales to be allowed in the province. We will be communicating this position to the national government. As a province, we have all worked hard, together, to battle Covid-19 and we have made significant strides. If we all continue to take every effort to reduce the spread of this virus, we can not only protect the people of this province from Covid-19, but can begin to rebuild the economy and ensure that we are able to overcome the second pandemic of unemployment.
Update on the coronavirus
As of 13:00 on 8 August, the Western Cape has 8174 active cases of Covid-19, with a total of 97 966 confirmed cases and 86 415 recoveries.

Garden Route District:
Bitou - 478 cases, recoveries 369
Knysna - 1160 cases, recoveries 902
George - 2898 cases, recoveries 2308
Hessequa - 210 cases, recoveries 168
Kannaland - 64 cases, recoveries 48
Mossel Bay - 1694 cases, recoveries 1222
Oudtshoorn - 723 cases, recoveries 390
Data note
It is not always possible to check and verify that the address data supplied for each new recorded case is correct, within the time frames required to provide regular and timely updates. This means that in some instances, cases could be allocated to the wrong sub-districts. We are working with the sub-districts to clean and verify the data and where errors are picked up locally, cases will be re-allocated to the correct areas.
More data is available on the dashboard here.
The Western Cape has recorded an additional 27 deaths, bringing the total number of COVID-19 related deaths in the province to 3374. We send our condolences to their family and friends at this time.
MSF Thusong Hospital to close
Yesterday was the last day for new admissions to the Thusong field hospital in Khayelitsha, being operated by Medicins Sans Frontiers. The organization will now be extending its support to other provinces where cases are increasing and their services will have a greater impact.
This hospital and all of the people who were involved in building and operating it, have been invaluable in our fight against COVID-19 in this province and we thank everyone who has played a part in saving lives there. This entire project has been the result of a partnership between MSF, the Western Cape Government, and the City of Cape Town who provided the building. These kinds of partnerships have been valuable throughout our COVID-19 response, but also demonstrate what is possible when we combine forces to tackle problems.
The hospital, which opened its doors on 1 June, has admitted 241 people over the past two months. It has worked closely with the Khayelitsha Hospital, providing an invaluable service to the people of Khayelitsha.
New infections in Khayelitsha have shown a decline in recent weeks. The recovery rate in Khayelitsha currently stands at over 90% and between the Khayelitsha hospital, and the Brackengate temporary facility, we will still be able to accept and care for patients as necessary.
We thank the entire team for their hard work, and commitment and the important role they have played in saving lives in this province. We wish them well as they go on to do this in other places in South Africa.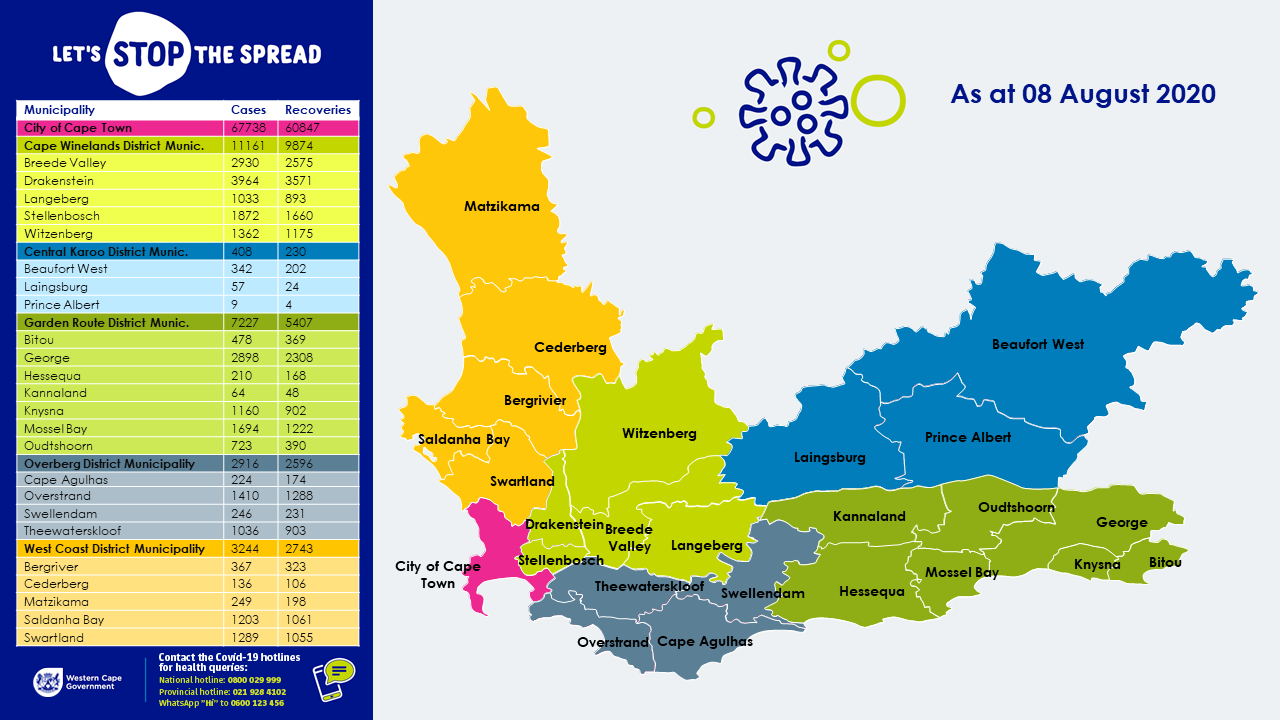 'We bring you the latest Garden Route, Hessequa, Karoo news'