TUINROETE NUUS - Die Suid-Kaap Jagters- en Bewaringsvereniging (SJB) se gewilde ghongskiet wat jaarliks op die plaas Aangenaam van Henry en Martie van der Westhuizen plaasvind het weer skuts van die uithoeke van die Karoo en Klein Karoo gelok.
Die kompetisie het in perfekte weersomstandighede plaasgevind en kon die wind nie vir swak skote blameer word nie.
Daar is in spanverband deelgeneem en elke span het uit vier skuts bestaan. Die kompetisie was oor ses bane beslis en elke baan het bestaan uit vyf staalplate waarvan die groottes verskil het.
Die beplanning, verwerking van die tellings en toegewydheid van die baanoffisiere het alles bygedra tot die sukses van die dag. Bo en behalwe die pryse vir die eerste-, tweede- en derdespanne was daar ook verskeie gelukkige trekkings gehou om die skuts wat nie 'n prys kon losskiet nie, ook iets te gee om huis toe te neem.
Daar is ook van 'n wa af geskiet.
Uitslae
Die wenspanne was as volg: 1. Ghong Chasers; Junita van Zyl, Jacques du Plooy, Raynor Becker en George Peet; 2. Dads and Sons; Johan Fourie, Niaan Fourie, Willie van Zyl en Leras van Zyl; 3. Safari Njema; Arthur Lilford, Mark Kalell, Jimmy Farnham en Piet Steyn.
SJB bedank die borge vir die bydrae wat hulle maak om skietsport in die Suid-Kaap lewendig te hou. Die borge vir die 2019 ghongskiet was soos volg: Kloppers George, Oudtshoorn Ford, Oudtshoorn Spar, Klein-Karoo Agri, Karoo Lusern, Tyres and Treads Oudtshoorn, VW Du Plessis Motors Oudtshoorn, Klein-Karoo Toyota, Tuinroete Woonwaens Mosselbaai, Accurate Concepts, Buckshot en verskeie anonieme borge wat nie hulle name genoem wil hê nie.
Die bestuur van SJB bedank ook elkeen wat 'n bydrae gemaak het om die dag te reël vir hulle insette, dit het byvoorbeeld twee dae geneem om die bane op te stel onder die Karoo-son.
"Laaste maar nie die minste dankie vir Henry en Martie vir hulle gasvryheid en voorsiening van verversings vir die dag. Dankie aan ons Hemelse Vader wat heeldag oor ons gewaak het en gesorg het dat daar geen insidente plaas gevind het nie."
Wynand Fourie (voorsitter van SJB) hier saam met die wenners, Ghong Chasers, Jacques du Plooy, Junita van Zyl, George Peet en Raynor Becker.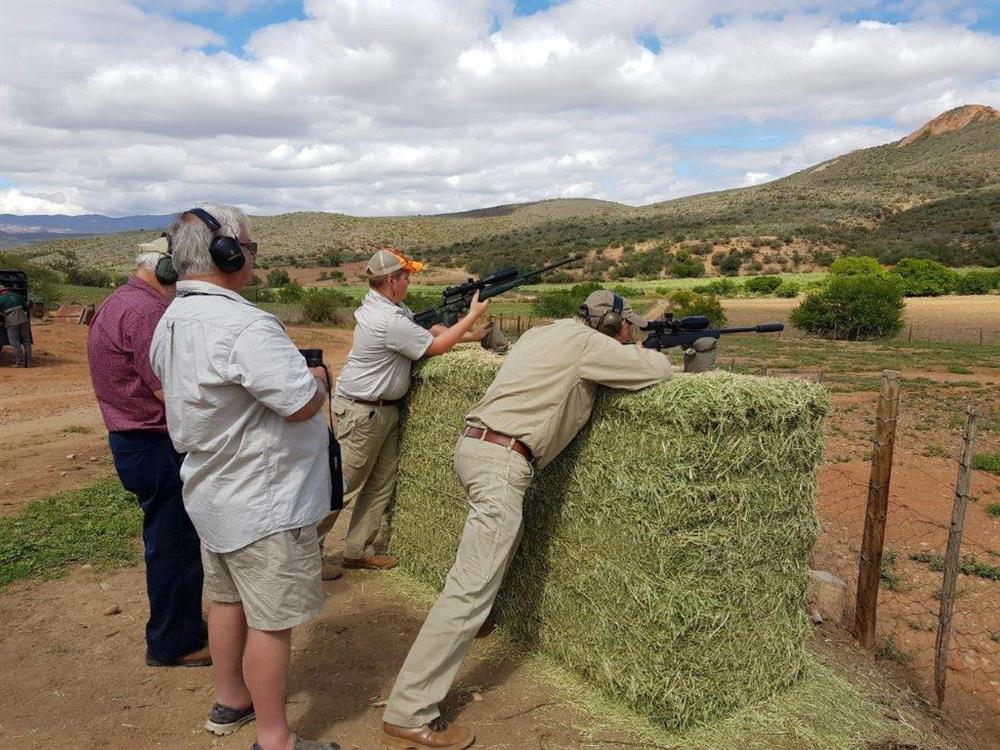 Marco Marx en Gert van Wyk skiet oor bale onder die wakende oog van George Butler en Rodney Buchan.
'Ons bring jou die nuutste Tuinroete nuus'