GARDEN ROUTE DISTRICT NEWS - The Garden Route District Municipality (GRDM) hosted a Good Governance Summit over two days last week at the prestigious Oubaai Hotel Golf & Spa in Herolds Bay.
The event was attended by councillors and municipal executive managers of all the Garden Route municipalities.
Held in collaboration with the South African Local Government Association (Salga), the event shone the spotlight on the elements of good governance, the need thereof, and the result of a lack thereof.
The executive mayor of the GRDM, Councillor Memory Booysen lamented the effects of red tape and bureaucracy on service delivery and economic development.
He alluded to the recent investment conference on the Garden Route, where pledges of investment in excess of R1 billion into the region were made, none of which have as yet materialised because of the cumbersome decision making processes and the paperwork involved.
Some of the topics of discussion included state capture, the understanding of the impact of corruption on service delivery, and the need for a reduction of red tape at local government level.
"I have made a conscious decision to understand Section 156 of the Constitution of South Africa, and especially Section 84 of the Municipal Structures Act as it explicitly states what a municipality can do, is supposed to do, and cannot do. The challenge is one of interpretation when it comes to laws and regulations," Mayor Booysen said.
"To transform the Garden Route economy, the R1bn pledged is from companies that originate in South Africa. They heard the call; they have done their homework; they are ready to invest in an area that is well governed, and well administered.
"The money stems from South African companies who have taken their business overseas because of all the red tape and corruption. They are willing to invest, but red tape and bureaucracy keep them away," Mayor Booysen added.
The mayor called on local government to follow the example of the one stop service-orientated Thusong Centres of national government when it comes to service delivery at grassroots level.
"When someone walks into a municipal building - any office - that person should be assisted right there, not shown away."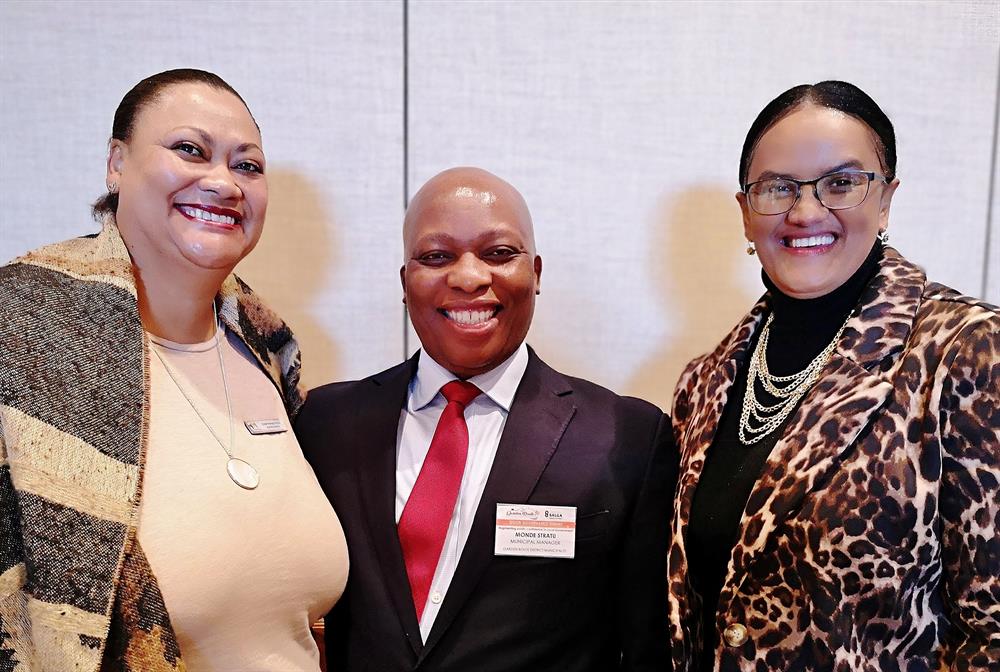 Mossel Bay Municipality acting director of corporate services, Gwynne Harding, with Garden Route District Municipality municipal manager, Monde Stratu, and Councillor Geolene Wolmarans (Salga). Wolmerans congratulated the GRDM on its initiative to host the conference on the important issue of good governance.
Councillors Raymond Wildschut, Ben van Wyk and Danny Saayman (Mossel Bay).
'We bring you the latest Garden Route news'