WESTERN CAPE NEWS - Premier Alan Winde held a digital press conference today regarding dealing with what he calls, the unemployment pandemic.
According to a media statement today:
Earlier today, I held a digital press conference in which I outlined the positive steps taken by the Western Cape Government in dealing with the COVID-19 pandemic, and the need to focus on addressing the second, unemployment pandemic which has resulted in severe job losses, major economic strain, hunger and could result in further problems down the line.
More information can be found in this statement.
The entire digicon can be viewed here.
Update on the coronavirus
As of 13:00 on 13 August, the Western Cape has 6388 active cases of COVID-19, with a total of 99 419 confirmed cases and 89 529 recoveries.

Garden Route district
Bitou - 502 cases, 417 recoveries
Knysna - 1197 cases, 1001 recoveries
George - 2979 cases, 2525 recoveries
Hessequa - 222 cases, 175 recoveries
Kannaland - 75 cases, 55 recoveries
Mossel Bay - 1754 cases, 1393 recoveries
Oudtshoorn - 791 cases, 465 recoveries
Data note
It is not always possible to check and verify that the address data supplied for each new recorded case is correct, within the time frames required to provide regular and timely updates. This means that in some instances, cases could be allocated to the wrong sub-districts. We are working with the sub-districts to clean and verify the data and where errors are picked up locally, cases will be re-allocated to the correct areas.
More data is available here.
The Western Cape has recorded an additional 20 deaths, bringing the total number of COVID-19 related deaths in the province to 3502. We send our condolences to their family and friends at this time.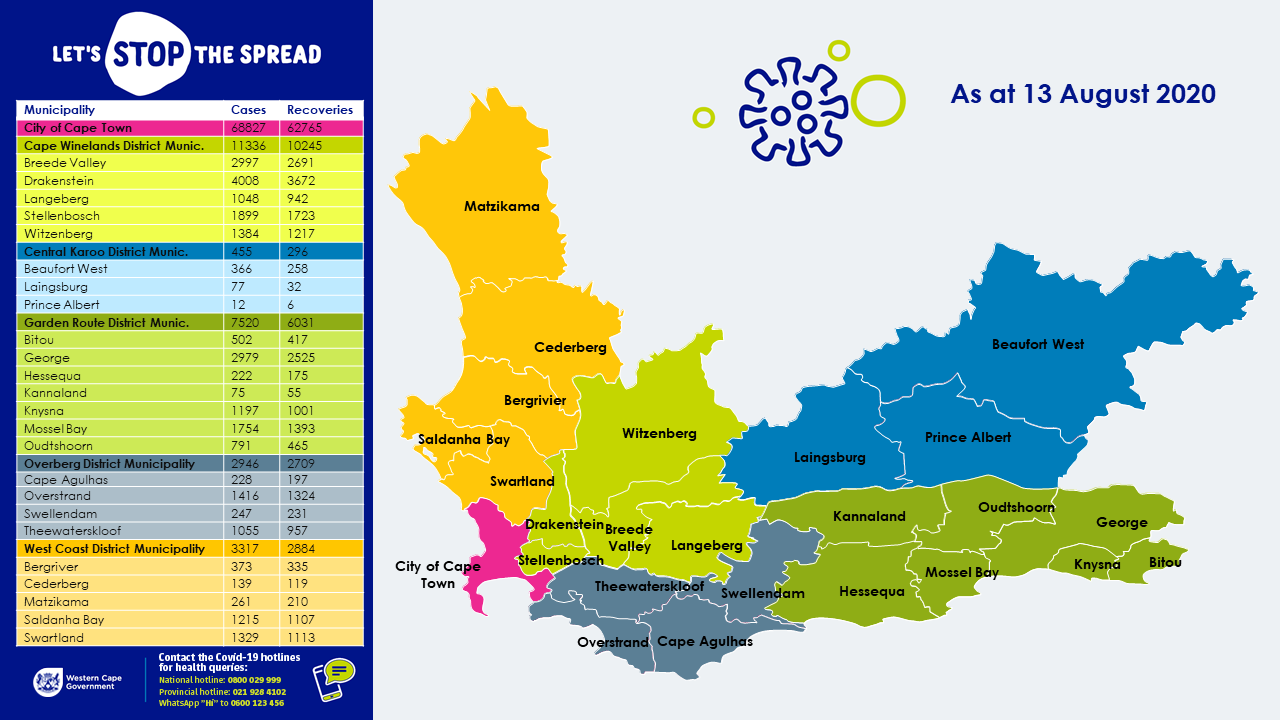 'We bring you the latest Garden Route, Hessequa, Karoo news'