GARDEN ROUTE DISTRICT NEWS - The Garden Route has recorded a sharp increase in the weekly number of Covid-19 deaths in the past week with 12 more people succumbing to the illness, six of whom in Oudtshoorn.
This brings the total number of deaths in the district to 384 as of Tuesday 27 October.
The other six deaths were recorded in Hessequa (1), Mossel Bay (1), George (2), Knysna (1) and Kannaland (1).
See the latest breakdown below.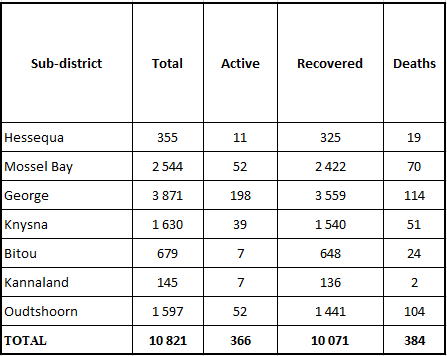 In September, the weekly number of deaths dropped from 19 in the first week to eight during the last week. In October, the number came down further to 3 recorded in the week up until Tuesday 20 October, followed by the spike of the past week.
A total of 283 new cases of coronavirus infection in the district was reported in the past week. This weekly number is continuing to increase. There were 123 new cases in the first week of October, 227 in the second and 218 in the third week.
Last week, Garden Route District Health Director Zee Brickles expressed concern over the increase and appealed to the public not to become complacent in adhering to the necessary health protocols. The district is rolling out plans to beef up public awareness about behaviour.
Focus is also on TB
Western Cape Premier Alan Winde last week said in the Provincial Parliament that TB remains one of the leading causes of death in the province. Many of the province's healthcare facilities, technology and systems created for Covid, can be used or adapted to focus on illnesses such as TB. "As we did with Covid, we will also adopt hotspot-focused, and behaviour change led approaches to prevent the spread of TB amongst those at risk."
The province's 3 800 community healthcare workers who assisted in the Covid-19 community screening programme will also help conduct other screenings in communities to identify illnesses such as TB. The Health Department will introduce new technologies to ensure that easy self-screening is possible. Data management systems will be used to properly track the its own performance.
'We bring you the latest Garden Route, Karoo, Hessequa news'